Note: This article is last updated on June 7, 2022. All corona measures were lifted.
Curacao is open for all tourist, also without a vaccination. Everything is back to "normal".
The island offers warm temperatures and loads of outdoor activities and restaurants, all year long.
Because Curacao isn't a mass-tourism destination you won't find many crowds in this Caribbean gem. And did we mention that 95% of the activities and tours the island has to offer are outdoor activities?
Curious to see how you could spend your days on Curacao – COVID-19 proof? Here is a list of suggestions for a fun and relaxing Curacao Vacation including the Temporarily new COVID-19 care adaptations.
Day 1: Arrival Day, Sit back & Relax
Daytime:
When arriving in the afternoon, spend your time at Avila's beautiful beach.
Forget all about that flight with face mask, soak in some sun, take in the sea breeze and take a dip in the turquoise water.
Tip: order a Bon Bini cocktail (it means Welcome in Papiamento) to toast to a great Curacao vacation with a colorful and delicious drink.
Nighttime:
When arriving in the evening, grab a snack and cocktail at Avila's scenic Schooner Bar. Release all stress and distractions from home. Enjoy all kinds of treats, toast to the start of your holiday and appreciate the good life on Curacao!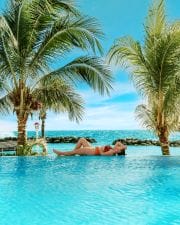 Day 2: Downtown Willemstad & Relaxing Massage
Daytime:
Visit downtown Willemstad. The famous Pontoon bridge, Handelskade and the Curacao & Dushi sign on Wilhelminaplein. Don't forget the beautiful murals in Ser'i Otrobanda & Scharloo. If you love to have more background information to what you're admiring, a guided walking tour is highly recommended. Although it is a 15-minute walk you can also take Avila's free shuttle bus leaves at 9.00am and returns at either 11.30am or 4.30pm.
Tip: Have lunch at De Gouverneur, enjoy a tasty light lunch & smoothie at La Boheme or go local at Plasa Bieu.
Take a good rest from walking in the sun all morning. Relax with an outdoor couples massage via Cloud Nine Spa in the afternoon.
Temporarily new COVID-19 care adaptations:
To offer plenty of fresh air, Cloud Nine Spa offers the option to choose an outdoor massage location, without additonal charges.
Tip: a 60-minute outdoor Absolute Relaxation Massage (with sea view) is available for just $79 per person.
Nighttime:
There are lots of tasty restaurants on walking distance from our hotel. Pick one, or better yet, pick three; visit one restaurant for each course to see and taste even more.
Day 3: Go Beach Hopping in Wespunt
Daytime:
How is your jet lag going? It might help if you do a quick workout or spinning class. You are welcome to visit Avila Fitness Center, complimentary use during your stay to help beat your jet lag. Your hotel room's balcony is the perfect spot for some stretching, yoga or meditation. The Avila gym also organizes group classes: Spinning and outdoor Sunset Pilates & Yoga (complimentary for all hotel guests).
Start your day with a good breakfast. Make sure you have a rental car (you can rent one at Budget Car Rental in our hotel lobby) and then go beach hopping in Westpunt. Do a Stop & Go at for example Playa Kalki, Playa Forti, Grote Knip, Kleine Knip, Playa Lagun, Santa Cruz, Santa Martha lookout point. Now that you have seen all these beaches it is recommendable to spend the rest of your afternoon at just one. We can advise one of the most beautiful beaches on Curacao; Cas Abou. They also offer diving.
Tip: Wish to see sea turtles? Go to Playa Piskado a.k.a. Playa Grandi. However, please respect them for the wild animals they are.
Nighttime:
After a fun day at all kinds of beaches, have a relaxing open air and seafront dinner just a few steps from your hotel room at Avila, Blues or the nearby BijBlauw, or The Heeren at Sea.
Day 4: Unwind at the Beach
Daytime:
Enjoy the wonders of your own comfortable and beautiful Avila Beach Hotel. Plunge in the infinity pool, take a dip in the sea. Read that good book and indulge in a cocktail or gin & tonic. Order a tasty lunch at the scenic The Pen Restaurant & Terrace and take nice after-lunch nap on your beach chair or in your airconditioned hotel room.
Tip: Did you know that Avila has 10 insta-worthy hotspots?
Nighttime:
Take the car and make sure that you are at Kokomo beach before sunset for some nice photos.
Tip: The Kokomo swing is one of the 15 Most Insta-worthy Curacao hotspots.
Day 5: Tour or Activity
Daytime:
What truly makes your heart sing? Is it an underwater activity such as diving, snorkeling? How about trying something new like going under by SeaBob, Submarine, or diving with dolphins in the open sea.
You can't get enough of the beach or like boating? Take a full day trip to Klein Curacao or take a Sunset cruise.
Do you like to end your Curacao Vacation with a thrill? Visit the Blue room cave, climb Christoffel Mountain or take a 4x4 tour by quad.
Are you fond of nature? Head to our National Parks; Christoffel Park or Shete Boka Park or hike the salt planes. Would perhaps you prefer to practice your hobbies such as playing golf, or shopping?
How about the Cultural activities? Curacao has many museums, country houses and you could even do a Caribbean Cooking Class, Private Food Tour. All tours & activities (besides the museums) are outdoors and in small groups.
Nighttime:
Head to Jan Thiel Beach for a tasty seafront dinner at Papagayo, Tinto, Zest or Zanzibar.
Tip: If you appreciate a less touristy dinner location and love sushi, than Kyoto might be just the perfect spot for you.
Day 6: Jan Kok, Coral Estate & Porto marie Beach
Daytime:
Grab a small bite to eat on your way to Jan Kok. Try a tasty pastechi at a local snek for example. Greet the flamingos and visit the Nena Sanchez art gallery. Afterwards, enjoy an extensive breakfast at Karakter on Coral Estate. Take in the view at Koraal Rooftop Terrace and head to Porto marie Beach to spend the rest of your day there.
Tip: You might spot the piggies on their beach and they also offer diving facilities.
Nighttime:
Another chance to try some of the tasty restaurants on walking distance from the Avila Beach Hotel.
Tip: If you want something truly fancy and unique, surprise your loved one with a romantic dinner on the beach.
Day 7: Do what's on your Curacao Bucket list
Daytime:
It's the final full day before you are leaving again. What is it that you must do before leaving back home? What was it that you were doing while you envisioned your Curacao Vacation on the moment you booked this trip? Is it a specific tour or activity such as on Day 5? Is it reading a good book on the beach? Is it enjoying another massage before you head home to deal with your daily schedule? Now is the time to do it and to enjoy it to the very max!
Nighttime:
You can't leave Curacao without experiencing a Happy Hour. There are multiple on the island and they each contain, music, drinks, snacks & a cozy atmosphere. Stop at a food truck, or "truk di pan" how locals call it, when heading back to your hotel to truly experience Curacao like a local.
Tip: BBQ Express on Caracasbaai won the most Best Truki Pan prizes.
Day 8: Day of your Return Flight
It's the day of your return flight and you only have a few hours left on Curacao. Take in some sun while you still can. Savor a good breakfast and look back at a terrific Curacao vacation. Take one last dip in the sea and buy some last-minute souvenirs at Avila's Britt gift shop to surprise your family at home.
You are most probably going to be disappointed that you are leaving Curacao again. However, be grateful for the time you got to spend here. Chances are you will be back someday soon anyway 🙂
Temporarily new COVID-19 care adaptations:
Kindly visit this official website, to see the latest measures, set by the Curacao government.