Curacao, an island paradise in the southern Caribbean, is renowned for its vibrant culture, stunning beaches, and culinary scene that delights the senses. While many travelers flock to this tropical haven for its sun-kissed shores and crystal-clear waters, coffee connoisseurs are also in for a treat. In this article, we'll explore the top coffee places in Curacao.
Number Ten Curacao
Number Ten Curacao is not just a coffee shop; it's an experience waiting to be savored. Nestled next to the Catedral of Thorns, this charming café and restaurant is a haven for coffee enthusiasts. With a focus on quality and a passion for the craft, Number Ten boasts a menu that features a wide array of coffee options, from traditional espresso to cold brews and even specialty lattes
Their baristas are skilled at crafting the perfect cup to suit your taste, and the cozy ambiance makes it an ideal spot to relax and recharge. In addition to their coffee, Number Ten also offers a delectable selection of pastries and breakfast and lunch items to accompany your drink. Their ambiance and setting are very Insta-worthy, and their decorations are on point and every Pinterest board's dream during special holidays such as Easter, Halloween, and Christmas.
The friendly staff and welcoming atmosphere make it a top choice for locals and tourists. When in Curacao, visit Number Ten and experience coffee at its finest
Pakaya Society: Concept Espresso Bar
For those seeking an authentic taste of Curacao, Pakaya is a must-visit destination. This hidden gem blends local culture and exceptional coffee, making it a unique and memorable experience. Pakaya is a bit under the radar but offers great-tasting coffee and deserves an integral part of the island's coffee scene.
What sets Pakaya apart is its dedication to incorporating Curacao's cultural heritage into its coffee offerings. They also offer tasty pastechi's; the islands' most popular breakfast treat, and snack, providing a truly immersive experience for visitors. The cozy café serves coffee to go (hence the name; pa kaya means "for the road" in Papiamento and is only open in the morning.
The welcoming staff at Pakaya are passionate about sharing the island's coffee traditions with guests. Whether you're a coffee connoisseur or a casual drinker, you'll appreciate the rich flavors and cultural connections that Pakaya offers.
Kafé 5999 & Downtown by 5999
Kafé 5999 and Downtown by 5999 are more than just coffee shops; it's a vibrant hub for unique food combinations and exceptional coffee. Located in Zeelandia (Kafé 5999) and the trendy area of Pietermaai (Downtown by 5999), this establishment combines the love of coffee with a deep appreciation for good food
As you step into Kafé 5999, you'll be greeted by a friendly employee. This café is a place to enjoy a cup of coffee and a very cozy spot to admire the beautiful interior and relax in the cool air conditioning. The menu at Kafé 5999 offers an impressive selection of coffee drinks, including classic options and inventive creations such as a Speculaas Latte or Crèmebruccino and Iced Black Sesame Latte.
Van Gogh Specialty Coffee & City Roastery & Drive Thru
Van Gogh is a delightful coffee shop in the city center of Willemstad that brings a touch of European elegance to Curacao's coffee scene. Named after the renowned Dutch painter, this cafe is an artistic oasis where coffee meets culture. It's where you can savor a cup of coffee while enjoying a delicate pastry freshly made by La Vie en Rose or have breakfast, brunch, and lunch.
Van Gogh offers a curated selection of coffee beans from various origins, ensuring every coffee lover can find something to suit their palate. Their skilled baristas take pride in preparing each cup with precision from their in-house coffee roastery, creating a truly exceptional coffee experience.
One unique aspect of Van Gogh is its cute drive-through in an old-timer Citroen Hy food truck, which makes Van Gogh a hotspot for quick caffeine fixes as well.
Douwe Egberts Café Curacao
The Douwe Egberts Café Curacao, or DE-Café as the Dutchies call it at the Rif Fort, serves the most delicious Douwe Egberts coffee, tea, and cakes. Douwe Egberts is a trusted, qualitative coffee brand from the Netherlands. It was founded in Joure, Netherlands, by Egbert Douwes in 1753 as De Witte Os, a general grocery shop.
Enjoy a traditional espresso or cappuccino, or go wild with a Heavenly Hazel or Lazy Noon. In addition to coffee, the café also offers a tasty lunch with freshly baked baguettes and delicious sandwiches. You cannot leave Douwe Egberts Café Curacao without having a piece of their famous freshly baked apple pie.
Sit on their cozy terrace and enjoy the Curacao weather with a hint of Dutch charm in every sip of your coffee.
Cafe Barista
Cafe Barista is a household name in Curacao regarding quality coffee. With multiple locations across the island, it's a convenient choice for decades for locals and tourists looking for a coffee fix. Cafe Barista is Curacao's first and oldest coffee roastery and has been open since 2004. Colombian specialists carefully select their Arabica Premium coffee beans in the best coffee regions of Colombia. They are transported to the Dutch Caribbean as green beans to be freshly roasted in their plant by the master roaster.
This cafe chain offers a wide range of coffee beverages, from classic espressos to trendy cold brews. They also provide a variety of flavored syrups and milk alternatives to customize your coffee to your liking. The friendly staff is well-trained and can guide you through their menu if you're unsure what to order.
Cafe Barista's commitment to quality and accessibility has earned it a solid reputation in Curacao. Whether you're looking for a quick pick-me-up or a place to unwind, Cafe Barista delivers excellent coffee.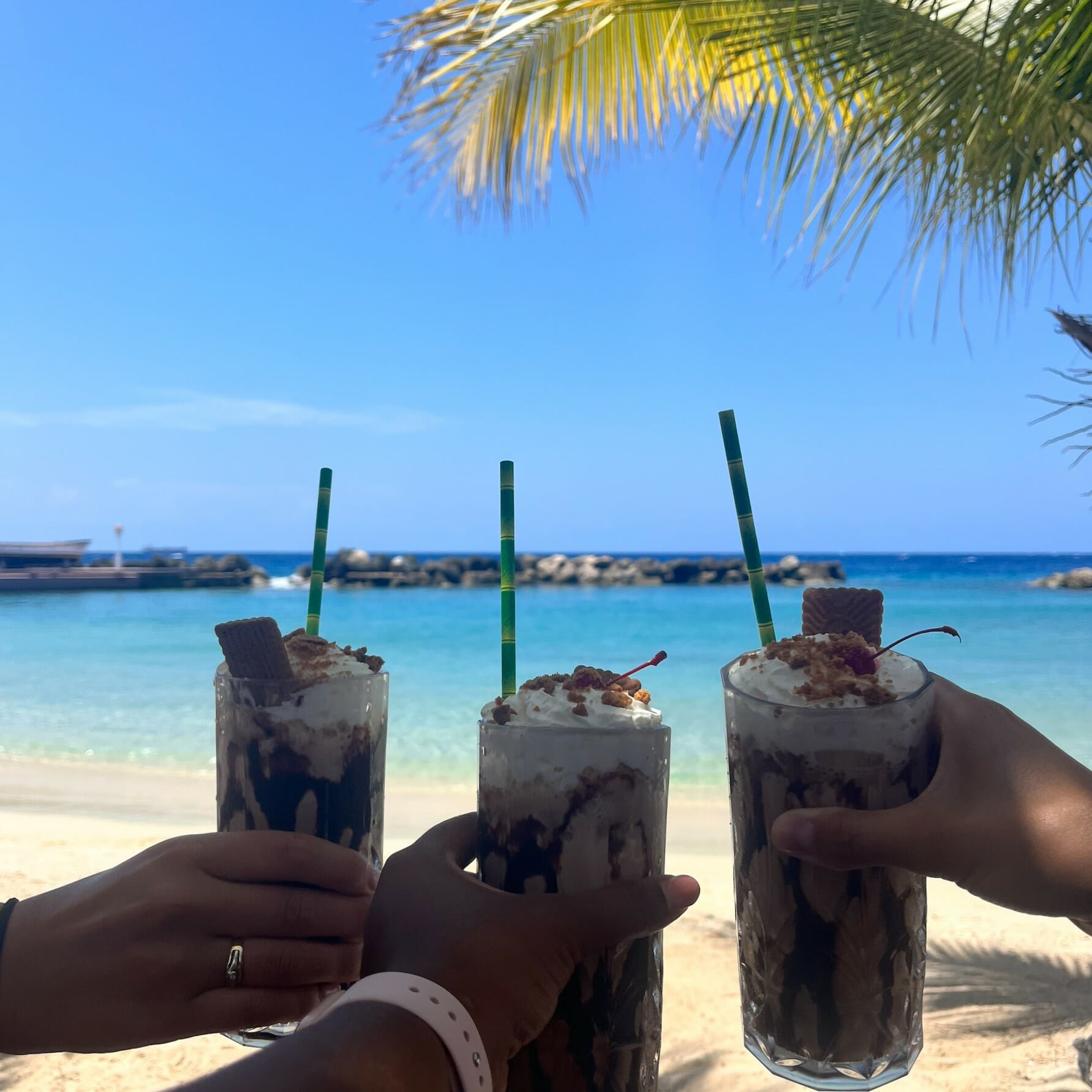 Avila Beach Hotel's Ice Cappuccino
While exploring the coffee scene in Curacao, we can't overlook the refreshing and delightful Ice Cappuccino served at Avila Beach Hotel. This beachfront oasis offers coffee for those seeking a cool, caffeine-infused treat.
The Ice Cappuccino at Avila Beach Hotel is a delightful fusion of rich espresso, and velvety cappuccino foam served over ice. It's a refreshing take on the traditional cappuccino, ideal for sipping by the sea. The combination of the cold brew, the warm Caribbean breeze, and breathtaking views creates a blissful moment of relaxation.
Avila Beach Hotel's backdrop of the island's natural beauty makes it noteworthy in our list of Curacao's top coffee destinations. Whether lounging by the beautiful white sandy beach or taking a break from exploring the island, the Ice Cappuccino at Avila Beach Hotel is a must-try for coffee enthusiasts and vacationers alike.
Curacao's coffee scene is a vibrant medley of flavors and experiences. While exploring Curacao's cultural treasures and natural beauty, be sure to make a stop at one of these coffee hotspots to savor the craftsmanship and passion behind each cup of coffee. Coffee and Curacao make the perfect blend!