Food is an important part of Antillean culture, and it would be a shame if you didn't give local food a try. Curacao restaurants offer an excellent way to discover new dishes from local cuisine. There are plenty of restaurants on Curacao, but which are the absolute best when it comes to lunch? Ten tips regarding the best – and sometimes less known – lunch restaurants on Curacao!
De Visserij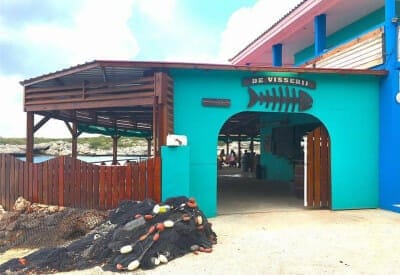 If you like fish, you should definitely visit De Visserij. The menu varies, depending on the catch of the day, and all ingredients are as fresh as they can be. This small, authentic restaurant by the water is very popular among locals. They never have the same fish; their menu varies every day. They have excellent quality fish with great taste.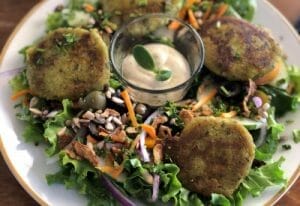 Hidden in Willemstad lies Hofi Cas Cora; a restaurant overlooking a big plantation where all the ingredients are grown. They also have a small farm. Fresh and local ingredients from farm to your table. All dishes – both vegetarian and with meat – are organic and prepared with love. If you want to escape the hustle and bustle of Willemstad for a while and want to have lunch in a relaxing and country side location, Hofi Cas Cora is exactly what you're looking for. Tip: you can also order fresh veggies to go.
Your go-to spot for great coffee (also for take out), and the best lunch you can imagine. You can also choose for healthy but one thing is for sure; you will have a wonderful lunch time. Awesome service and the place is super "Instagrammable", so don't forget your camera. Also fun decorations during special holidays. You will love the setting of this lunch hotspot in Landhuis Bloemhof. Don't forget to make a reservation and note that they're not open during the weekend.
Schooner Bar & Restaurant
The Avila Beach Hotel is a popular location to have lunch, for both locals and tourists with an amazing sea view. The Pen Restaurant & Terrace is situated beachfront. Pick a spot at this open air restaurant and terrace by the sea, and enjoy a varied menu including all kinds of delicious dishes (both warm and cold) and Avila's famous Keshi Yena. Choose from the extensive menu and don't forget to order a delicious cocktail or gin & tonic on the side. Tip: experience the weekly events, Avila's Beach Vibes on Wednesdays and the BBQ Night on Saturdays.
Do you feel like having an exotic and adventurous meal? Then visit Plasa Bieu! In this old market hall you'll find six different restaurants, each with their own menu (which may differ from day to day). Local specialties such as fish soup and stew dishes are prepared in open kitchens while you sit at one of the long rows of tables. Eating at Plasa Bieu is an experience itself, and you will be surrounded mostly by locals. The prices are low, the quality is high!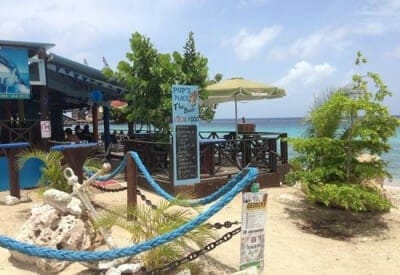 Pop's Place is located at Caracas Bay on Curacao and is renowned for its delicious local meals, fair prices, unique location and extremely friendly staff. Do not expect any luxury decoration or formalities here; rather the opposite. And that's the charm of the very authentic Pop's Place!
Landhuis Klein Santa Martha
When travelling to or from Westpunt, stop by the colonial Klein Santa Martha Manor for a delicious lunch with a view. This renovated country mansion – which is also used as a hotel – has a terrace and a spectacular view of the countryside and nearby bay. Hospitality is a core value of the Santa Martha Manor. From the location to the food: this is Curacao at its best. Visit the lookout point at Santa Martha bay to end your lunch in a stunning way.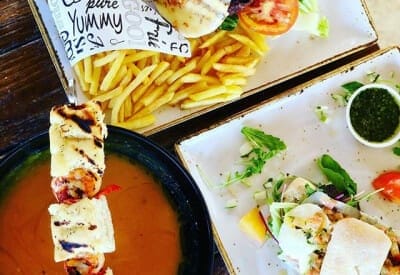 Karakter (which means character) is a somewhat remote beach bar that's definitely worth visiting, also in combination with the nearby located Koraal Rooftop. Karakter is not just great because of the fantastic food, but also ideal to have a quiet day at the beach. Character has a surprising menu that caters to everyone's needs. Don't forget to bring your snorkeling gear for a close underwater look before or after lunch!
Mood on Curacao is relatively new, but it's already worth mentioning. Do you feel like relaxing completely? Combine a beach day with a long lunch by the sea. Get yourself in the right mood here. This luxurious beach restaurant does everything it can to make you feel comfortable. From the beautiful location ocean side, to the fresh food on your plate. Especially the sea food platter for two is worth a try with fresh lobster, oysters, crab and shrimps.