It's easy to collect and combine a few Caribbean islands that look like they are straight from a postcard on one single trip.
The small Caribbean islands are relatively close by. In some case, you can even see the other Caribbean islands in the far distance from the shoreline of another. The close proximity makes island hopping relatively inexpensive and it's just so easy.
In this Beginners Guide we will take you through all the steps of the way of Island Hopping the Caribbean:
The Safe Southern Caribbean
If you're looking for an island-hopping experience in the Caribbean that offers great weather year-round, the southern Caribbean islands are most recommended.
Doing a multi-island trip in the Southern Caribbean is perfectly suitable 365 days a year because they are located outside the hurricane belt.
You are most likely to avoid a major storm during your vacation when island hopping the ABC islands (Aruba, Bonaire, and Curacao) in the western edge of the Leeward Antilles chain. Even during Hurricane season from June through December.
Aruba, Bonaire and Curacao are considered the sunniest islands of the Caribbean. It is the perfect place to visit year-round, as it has the least number of rainy days on average plus typical, more than 8 hours of sunshine per day.
That's what you are most likely are looking for when island hopping in the Caribbean, sun-sure weather, right? The ABC islands are also one of the safest islands in the Caribbean.
The similarities between the ABC islands
Aruba, Bonaire and Curacao offer sun, sea and sand. All three islands share the same native language of Papiamento. Widely spoken is Dutch, English and Spanish making it quite easy for visitors to communicate. Because the islands are part of the Kingdom of the Netherlands, they are often referred to as the Dutch Caribbean. The islands also have the traditional celebration of Carnival in common.
So far, the similarities, because they are worlds apart despite being apart just a 30-minute flight. Here's a small sum up of their strengths and uniqueness, in alphabetical order, not the geographical order, (ACB).
The differences between the ABC islands
Aruba

Aruba is a popular tourist destination offering plenty of direct flights. It's the smallest, and most expensive of the three and it is a rather flat island. You will find great restaurants, bars, lots of famous fast-food chains and big-name high-rise hotels on one huge strip.
Aruba is a great place to make mile long beach strolls. The service is on point and perfectly catered to American standards as most of the tourists are from the USA. You'll find shipwrecks for diving, commercial small islands like Palm Island and Renaissance Island. If you wish to compare Aruba with a Caribbean Island, you can compare to the Bahamas in a sense.
"One Happy Island"
Bonaire

On this Caribbean Island you will find untouched beaches and lots of nature parks. This sustainable island is like one big National Park with many reserves.
People visit Bonaire mainly because of its beautiful diving spots; they are known as offering the most beautiful dive sites in the world. This ecological island attracts mainly European tourists and offers a village-like atmosphere.
There are no traffic lights, and you mostly find small-scale resorts and apartments here. This island offers mainly water sport activities, some terraces & pubs and gives you the most peace and quiet. Maybe, even Caribbean wide.
"Once a visitor always a friend"
Curacao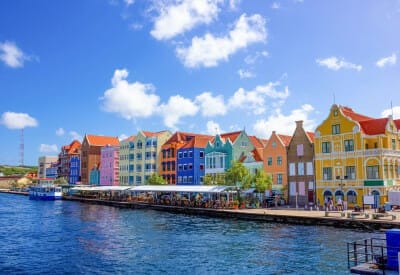 Curacao is the biggest island of all three and is considered the "center" of the ABC islands. The UNESCO Handelskade and Pontoon bridge are iconic, as well as its Instagram worthy intimate bays.The uninhabited island of Klein Curacao is a true Bounty Island. Curacao offers hills and rocks, especially near Christoffel Park and Shete Boka Park.
Like Bonaire, Curacao offers a very accessible reef and is great place to snorkel and dive. You will find a European or "Little Amsterdam" kind of vibe and this gem mainly attracts tourists from Europe. You'll mainly see low-rise boutique hotels or family-owned hotels.
The range of activities is most diverse here and also holds an array of cultural activities. Lots of art, street art (murals) as well, unique restaurants and bars, and there are several lively areas spread over the island. There are tons of hidden gems to discover on Curacao and it is recommended to rent a car to explore them all.
"Feel it for yourself"
In conclusion: When visiting the ABC islands, you will experience a great variety. Each island is unique, beautiful, and welcoming & warm in its own way.
Knowing all their characteristics we can imagine you're wondering how to divide your days. Allow us to sum up the perfect ABC island hopping itineraryfor you.
ABC Island Hopping Itinerary
We have listed a 14-day (recommended) travel itinerary with their highlights to do and see.
If you are planning on island hopping for just 7-days, we advise to select just two islands. A 7-day itinerary would consist of staying a minimum of 4 days on Curacao and 3 days on either Bonaire or Aruba.
Aruba: 4 days recommended
Day 1 – Day of arrival – rest and explore your accommodation
Evening: Explore the strip
Day 2 – Enjoy the best beaches of Aruba: Eagle beach, Palm beach, Baby Beach, and for the adventure-seekers Boca Grandi & Arashi Beach
Evening: Sunset Sail on a Catamaran
Day 3 – Jeep Tour to Natural Pool and Arikok National Park
Evening: Sunset horseback ride
Day 4 – Day of departure.
Morning: Explore Oranjestad before your departure
Bonaire: 3 days recommended
Day 1 – Day of arrival – rest and explore your accommodation
Evening: Savour Michelin-Worthy Cuisine at Brass Boer
Day 2 – Morning: Snorkeling or diving (a minimum preflight surface interval of 12-24 hours when diving) at Klein Bonaire.
Afternoon: Jibe City at Lac Bay for some windsurfing.
Evening: Pick one of the seaside restaurants in Kralendijk and enjoy a night cap at Karel's Beach Bar
Day 3 – Day of departure
Morning: Go flamingo spotting at Pekelmeer, between the Willemstoren lighthouse and the red slave huts (they are yellow now) before your departure. Or if you have the time, a 3-hour guided North & South Tour.
Curacao: 7 days recommended
Day 1 – Day of arrival – rest explore your accommodation (Avila Beach Hotel)
Evening: Enjoy dinner at The Pen Restaurant & Terrace or Blues Restaurant
Day 2 – Morning: Walking Tour to Punda (and window art) or Otrobanda (and street art)
Afternoon/Evening: visit the flamingos at Jan Kok and dine at the nearby Landhuis Daniel
Day 3 – Visit Christoffel Park (early in the morning) and head to Cas Abou beach afterwards
Evening: Pick one of the restaurants that are located within walking distance of the hotel (Penstraat or Pietermaai)
Day 4 – Swim, snorkel or take dive boat trip at Coral Estate followed by lunch at either Koraal or Karakter
Evening: Visit one of the happy hours (especially on Friday, Saturday). Indulge in a late night truki pan (food truck) food experience like locals do.
Day 5 – Boat Trip to Klein Curacao 
Evening: Pick one of the restaurants that are located at or within walking distance of the hotel (Penstraat or Pietermaai)
Day 6 – Westpunt beach hopping to end at Porto Marie Beach
Evening: End your Curacao vacation with a romantic dinner on the beach at Avila
Day 7 – Day of departure.
Morning: Finish your stay with a relaxing massage with sea view before your departure
Flights to ABC Islands
The final step besides selecting your hotel, would be selecting your flights. Since your start and end of this Caribbean Island-hopping experience, may depend on your location and the (direct) flights to (one of) these islands, we won't state an exact start or end point. It is wise to check the three airports' websites to check up to date info regarding flight schedules (also due COVID-19 modifications).
You can additionally view which airlines are flying to the ABC islands from which cities to create your most efficient travel itinerary. You can immediately see the airlines' schedule flying in between the ABC islands as well.
There are 5 airlines operating the ABC route: Winair, Divi Divi Air, EZ-Air, Jetair, Aruba Airlines.
- Aruba (Queen Beatrix International Airport): https://www.airportaruba.com/flight-schedules
Airport Code: AUA
- Bonaire (Flamingo International Airport): https://bonaireinternationalairport.com/destinations/
Airport Code: BON
- Curacao (Hato International Airport): https://www.curacao-airport.com/flights
Airport Code: CUR
"Caribbean Island Hopping is as easy as ABC"