Getting married is a very special and beautiful event in your life, but planning it takes a lot of time and effort. Therefore, it is particularly important that you fully relax and rest during your honeymoon. Curacao is a popular destination amongst honeymooners who are looking for a romantic and possibly adventurous honeymoon. The island offers plenty of beautiful locations and activities to enjoy together with your loved one. To make things easier for you, we have created a list of tips to make sure you get the most out of your honeymoon to Curacao.
Search for a hotel located at the beach on Curacao
Curacao is an island with many beaches, but not every hotel on Curacao has a beach of their own. Whether you've climbed Mount Christoffel, explored the island or spent all day on the beautiful beaches of West Point: nothing compares to ending the day on Curacao at the beach of your own hotel. Not only is this relaxing, but also very romantic during sunset.
Choose a hotel that focuses on adults
You just got married and having children might be a plan for the future. So enjoy the tranquility and peace that the lack of children brings while you still can. Choose a hotel that focuses on adults rather than families. No noisy kids running around the swimming pool and no balls getting kicked around on the beach – just the soothing sounds of the sea, a gentle breeze and each other. Children will come later. Maybe.
Book a hotel in Curacao that offers honeymoon packages
Some hotels on Curacao have offers for honeymooners such as a romantic dinner for two on a deserted beach, or romantically decorated hotel rooms. Good hotels usually offer romantic packages or add-ons with a variety of extras to fully enjoy your Curacao honeymoon with your partner. It is recommended to inquire about the possibilities in advance to make sure that everything can be arranged for you.
Complete your honeymoon in Curacao with a spa
Whether you opt for a hard workout in the gym, a relaxing massage on the beach or simply kicking back in the jacuzzi with a view on the beach, a spa offers numerous ways to cleanse the body and soul. Not all hotels in Curacao have a spa. Treat yourself and your lover to vacation on Curacao with a spa treatment – it helps you relax completely.
Discover the romantic restaurants of Curacao
Love comes from the heart, but passes through the stomach. Luckily there are many good restaurants in Curacao. On your honeymoon, it's not only important that the food tastes great, but also that the setting is romantic. It is recommended to read reviews of restaurants on Curacao on websites like Tripadvisor. This helps you decide in advance where you'd like to eat and to avoid disappointment. Of course, you can always spontaneously choose to eat somewhere else if you discover the perfect restaurant.
Visit the most beautiful places of Curacao to watch the sunset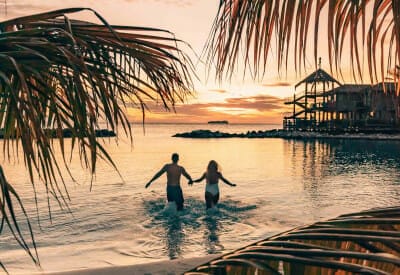 The shape and location of the island allow you to watch the Curacao sunset from many beautiful places on the island. As long as you stick to the (south)western side of the island, you're good to watch the Curacao sunset from almost anywhere. However, some places are just more beautiful than others.
One of the nicest places to watch the sunset from, is at the Blues Bar located on the beach of the Avila Beach Hotel. This is the perfect place to relax, enjoy a drink and good food, and it has the greatest jazz and blues music playing in the background. The view from Karakter is also phenomenal: the infinite Caribbean ocean and a perfect spot on Curacao to enjoy breathtaking sunset.
Another absolute recommendation is the authentic seafood restaurant Sea Side Terrace. The tables are on the beach and the location offers a spectacular view over sea and the sun setting behind the horizon. A more romantic Curacao sunset than this is hard to find.
City Tour in Avila's 1926 Rolls Royce
City tours are extra special in a 1926 Rolls Royce. Especially popular amongst men. Do something out of the ordinary by making your honeymoon truly stand out.
Tour the city of Willemstad and/or to use as the ultimate (wedding) prop.
This romantic add-on can be booked at $265 per hour and this old-timer's parking spot is at the Avila Beach Hotel.