Curacao, a Caribbean gem celebrated for its pristine beaches and vibrant culture, is committed to a sustainable future. Amidst its natural beauty, the island is progressing towards a more eco-conscious era with the free Club17 SDG Curacao Tracker app.
Download the Free app via App Store
Download the Free app via Google Play
Curacao's Sustainability Drive
The Avila Beach Hotel proudly supports this transformative initiative. As a beacon of hospitality and sustainability, the hotel shares the vision of an eco-conscious Curacao. By joining Club17 with among others Dynaf, Carmabi, MCB Bank, Aqualectra, Limpi, Green Phenix, Skenicash, KLM and TUI, it inspires guests and visitors to engage in sustainable practices during their island stay. Curacao has embraced the United Nations' Sustainable Development Goals (SDGs) to champion environmental preservation and socio-economic equity. These 17 global objectives encompass various critical areas, all contributing to a sustainable future.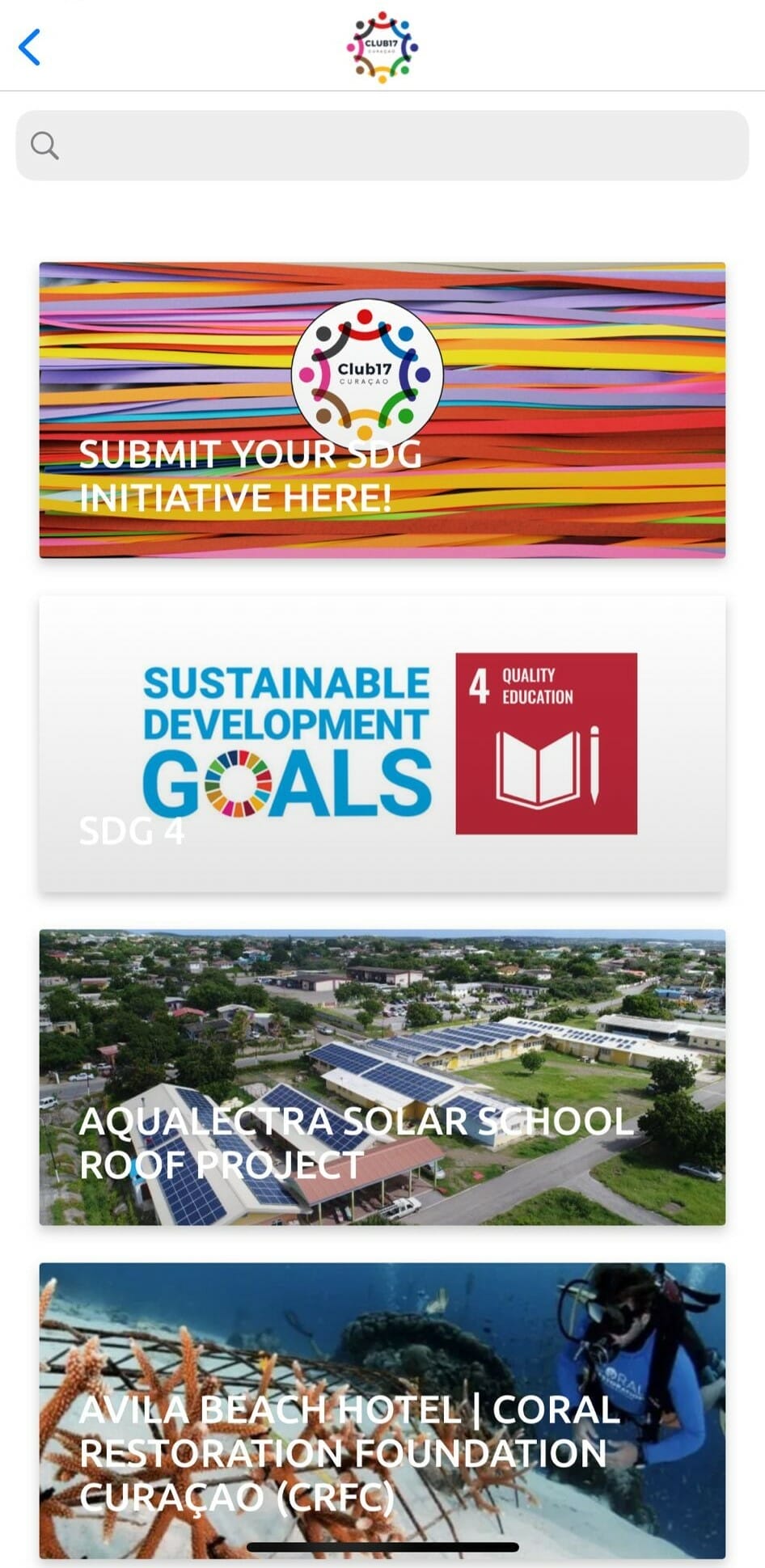 Introducing Club17 SDG Curacao Tracker App
The free Club17 SDG Curacao Tracker app offers real-time insights into Curacao's SDG progress. The Avila Beach Hotel is a proud partner of this initiative. Whether you are a local or a curious traveler, this app empowers you to explore eco-friendly initiatives, track SDG Curacao achievements, and actively partake in the island's sustainability journey.
Key Features of Club17 SDG Curacao Tracker App
SDG Monitoring: Stay updated on Curacao's progress towards all 17 SDGs, witnessing its dedication to these global goals.
Orient: Discover local eco-friendly projects divided over the 17 SDGs. See which project speaks most to you and would be a good match for you to contribute.
Engage and Share: Join conversations on Curacao's sustainability, share thoughts with a like-minded community, and share other eco-friendly projects that are contributing to one of the 17 SDGs.
Get Involved: Learn how to engage in local projects, contributing to Curacao's sustainable development. See how you can also win prizes with Skenicash while contributing to a better world.
Stay Informed: Receive sustainability-related updates, news, and event notifications, ensuring you're always well-informed.
Join the Sustainable Movement
The Club17 invites you to actively participate in Curacao's sustainability journey. Dive into marine conservation, renewable energy, or community development - this app opens doors for you to make a difference. With Skenicash you can also win prizes.
By monitoring SDG progress and exploring local eco-friendly projects, you'll gain a deeper appreciation for Curacao's commitment to sustainability and become a catalyst for positive change. You can play a vital role with the Club17 SDG Tracker app as you can actively help shape a greener Curacao.
Join us in embracing sustainability, one SDG at a time. Download the Club17 SDG Curacao Tracker app today, commencing your journey towards a more sustainable world!
Download the Free app via App Store
Download the Free app via Google Play