Curacao has numerous restaurants, and you might have about a week to discover the entire island. In short, it isn't easy to select a great restaurant every evening where you will have the time of your life, and your love for Curacao grows more each time. The Pen Restaurant & Terrace is a unique open-air restaurant and a must-visit if you want a truly unique dining experience. We give you five reasons why you should experience this restaurant at least once.
Extraordinary dishes with unique combinations, textures, and palates

The Pen Restaurant & Terrace (previously known as Belle Terrace restaurant) is one of those restaurants on Curacao with international fame and an authentic heart combined with a sophisticated twist.
Here, you will experience good food at its best.
Authentic location with a view

You would almost forget the unique location of The Pen Restaurant & Terrace. The semi-outdoor restaurant has a beach house setting. It is in the lively Pietermaai District and has a stunning sea view.
In 1812, the La Belle Alliance mansion, now operative as Avila's reception area, was home to English Governors. Their favorite spot was the enclosed lush backyard of the villa, which they called The Pen. The Pen Restaurant & Terrace is situated at that location and is named after their beloved hangout.
Taste the region

If you are curious about what this region offers, this is the place to be. You will be introduced to only the best ingredients from Curacao, the Caribbean, and Latin America, delivered in a modern and photogenic package.
It is one of the few restaurants on Curacao where you can taste the region from the farm to your fork.
Tip: Try the local Keshi Yena dish.
Healthy hotspot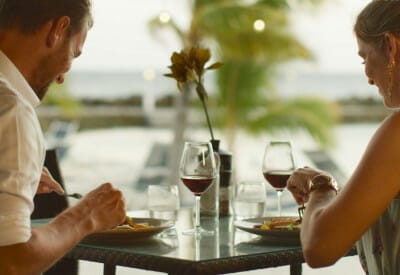 Vegetarians, Vegans, special diets like gluten-free, or just looking for a healthy hotspot on Curacao? Search no more.
Restaurants in Curacao mainly offer grilled specialties. The Pen Restaurant & Terrace specializes in dishes focused on health, taste, and only the best quality ingredients.
Culinary events

The Pen Restaurant & Terrace on Curacao organizes Culinary events twice a year with the best Michelin Chefs from the Netherlands, like Ron Blaauw, Richard van Oostenbrugge, and Robert Kranenborg.
We started this tradition on Avila's 50th anniversary in 1999 with the late Cas Spijkers. You will most likely notice their influences on your culinary experience. Also, events such as Pasta e Basta (live from Amsterdam) are a yearly success.