The Caribbean island of Curacao is part of the Dutch Kingdom. Just like the Netherlands, also Curacao knows that you should be proud of being you. When it comes to LGBTQ+-friendly vacation destinations, the island of Curacao is a perfect piece of paradise. Everyone has the right to be themselves and to love whom he or she wants. Also on Curacao you come as you are and we have several ways of showing that.
Curacao Gay Pride
What started decades ago in June was extended to the Dutch Caribbean in September when this island is the place to. The Curacao Gay Pride organized its first edition in 2012; a 7-days long event filled with plenty of parties and activities. Enjoy white sandy beaches, cocktails with a sea view, the best DJ's and dance with beautiful boys and girls. Join the party! Click here for more information: www.curacaopride.com.
Same sex ceremony
Who haven't been dreaming of a commitment ceremony right on the beach, with the turquoise blue ocean in the back? This island offers many premier beachfront venues for an unforgettable and unique same sex commitment ceremony. Whether it's your commitment ceremony, rehearsal dinner, or honeymoon, you are destined to enjoying your special day. Feel welcome! Click here to see an I DO package.
IGLTA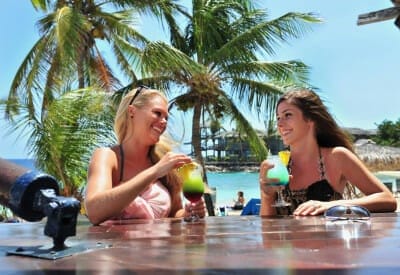 Curacao has the highest membership rate of businesses in the IGLTA (International Gay & Lesbian Travel Association) and a tight-knit community of friendly, accepting locals. The Avila Beach Hotel was the first hotel in Curacao to become a proud member and since than many others followed. ALL guests are valued customers and staff at these hotels is trained to make no distinctions. Learn more about their gay friendliness via www.gaycuracao.com.
Carnival
Rio de Janeiro is famous for it but on Curacao Carnival is the biggest event of the year and definitely a good runner up. This island hosts one of the largest Carnival celebrations in the Caribbean. Enjoy dancing in the streets, admire the beautiful themes of floats and costumes of each Carnival group and take in the beauty of the people in the parade. Curacao and its Carnival is truly a must-see.