There are numerous restaurants on Curacao and you might have about a week to discover the entire island. In short, a difficult task to select a great restaurant every evening where your will have the time of your life and where your love for Curacao grows a bit more each time. Blues Restaurant is a must visit if you are looking for some "soul" in your food. We give you five reasons why you should experience this restaurant at least once in your life.
Top 10 Best Hotel Bars of the Caribbean
Avila's Blues Restaurant was selected in the Top 10 Best Hotel Bars of the Caribbean by the renowned Caribbean Journal (the largest online Caribbean news magazine).
Blues Restaurant is praised by lots of international media and influencers.
The most beautiful sunset on Curacao
Location, location, location. Enjoy the amazing panoramic sea view and come by early to have the perfect opportunity to witness the stunning sunset.
One of the few restaurants on Curacao with such a great sea view and sunset view.
Colorful and Cultural
Blues offers a unique atmosphere. Its roof is one huge and colorful art piece made by Jhomar Loaiza. It's a great eye catcher and is similar to the colorful dishes served at Blues Restaurant.
Feel the cultural vibes and experience a great mix between both locals and tourists. Especially on those famous Thursday nights!
Caribbean Kitchen
If you appreciate a tasty and jazzy menu with Caribbean inspired specialties, then Blues is definitely worth a try.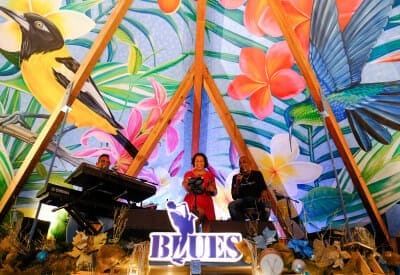 Jazz it up
It is the hotspot for music lovers, especially if you're into Jazz and Blues. Enjoy the famous Live Music Nights on Thursdays where you'll be blown away by the best Live Music on Curacao.
One of the artists is for example Curacao North Sea Jazz artist Hershel Rosario and grammy winner Pernell Saturnino. Both born and raised on Curacao.