It can be quite difficult to make a choice when it comes to a vacation to Aruba vs Curacao. You only have a few vacation days to spend, so you better be sure that you're enjoying them to the very max. Both islands have perfect weather year-round, are situated below the hurricane belt and meet the most essential conditions of any tropical vacation: it is warm, sunny and the beaches are white. But of course, there is much more to it than that. It's just a 20-minute flight between Aruba and Curacao, but the neighboring islands are very different from each other. Also in terms as Coronavirus as Aruba has been hit much harder by the COVID-19 virus than Curacao. If you have any doubts about which island would be a better fit for you then this overview is for you.
Beaches: Many secluded bays vs. Long beaches
A tropical island is not complete without white sandy beaches and a surrounding blue ocean. Both islands have plenty of both, however, there are differences. Aruba has beaches that are long and stretched, while Curacao is known for its many bays and secluded beaches.
Photo: Cas Abou beach on Curacao
Nature: Cliffs and hilly landscape vs. flat and more fruit-bearing trees
Despite the dry climate there is no lack of trees on both Curacao and Aruba. There are many palm, mango and banana trees, especially on Aruba. Curacao has more cliffs and hills than Aruba, this is especially in the Christoffel park nature reserve. Here you will also find the 372-meter-high Christoffel mountain, where a real climb is needed to reach the summit (highly recommended!). On Aruba there are two mountains: the peak of the Jamanota (188 meters) can be reached by car and the Hooiberg (165 meters) can be conquered via stairs.
Photo: Divi Divi tree on Eagle Beach Aruba
Underwater: Easy accessible reef vs More shipwrecks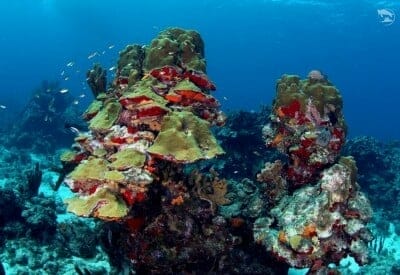 Curacao and Aruba are ideal for diving, both have breathtaking underwater worlds. Divers (both beginners and advanced) from all over the world come to Curacao and Aruba for that reason. On Curacao it's very easy to dive or snorkel at the most beautiful spots; just walk in from the beach. On Aruba when diving you're much more likely to need a boat. Admittedly, there are more sites on Aruba to wreck dive– we sense a possible correlation.
Photo: Curacao's Mushroom forest
Bonus islands: One bounty island vs. Various commercialized islands
On one side of Aruba you will find not one but a number of smaller islands. Aruba has multiple private islands such as Aruba's well-known Palm Island and Renaissance Island, which also have restaurants, bars and tourist attractions. Curacao's little sister, Klein Curacao, is an uninhabited and pristine bounty island off the coast of Curacao. It's a true paradise within paradise, and you can go there for a day trip with several boat companies.
Photo: Renaissance island Aruba
Overall type of tourists: Europeans vs. North Americans
Aruba has more fame worldwide, and attracts more tourists from its neighboring island of Curacao. Aruba mostly welcomes tourists that are from North America. Curacao is more of a hidden gem to the world, however greatly popular amongst Dutch people and increasingly known in other European countries. This also reflects in the street image. The people on Aruba mainly speak English and Spanish. On Curacao Dutch and Papiamento are the commonly spoken languages. Ultimately, there are four widely spoken languages on both Aruba and Curacao: Dutch, English, Papiamento and Spanish.
Photo: American tourists on Aruba
Island vibe: Little Amsterdam vs. The Bahamas
Curacao has architecture that is similar to the Dutch with the famous Amsterdam canal houses, hence the UNESCO World Heritage site Handelskade. There's a European vibe on Curacao while Aruba feels more American. In terms of tourism, Aruba is more massive than Curacao, where it's generally quieter. Visiting Curacao is like visiting little Amsterdam or the Netherlands in some sense but way warmer and with a lot less hours in a plane (when traveling from North America). Visiting Aruba is like visiting the Bahamas, but without the hurricanes and more breezy weather.
Photo: Curacao's UNESCO World Heritage site Handelskade
Hotels & restaurants: Boutique hotels and culinary treat vs. All-inclusive high rise
The number of hotel chains is higher on Aruba than on Curacao, as well as the number of all-inclusive hotels. The Curacao hotels – which more often than on Aruba are family owned or boutique hotels – mainly offers low rise hotels. Fast food chains are located on both islands, although Aruba has more of them. Curacao has more fine dining restaurants, with top notch food. This is a great way to taste the absolute best of its regional cuisine. This is also one of the reasons that there are a few hotels on Curacao that offer an All-inclusive package. The restaurant density is at its highest in the Pietermaai district.
Photo: The well-known family owned Avila Beach Hotel on Curacao
Activities: Exclusive & Cultural vs. Crowded & Casinos
It wouldn't be the Caribbean without festivities – luckily, both islands are exuberant. There are many organized (cultural) events and activities throughout the year, ranging from sport to art. In general, Curacao has more culture and more focus on its heritage. This can be seen in daily life and the number of museums. Many activities on Curacao are related to nature. Aruba has a variety of tourist attractions; from wild life to many casinos. Curacao receives a lot less tourists on a yearly basis and is larger (444 km2 / 171 sq mi) than the more compact and busier Aruba (180 km2 / 69 sq mi). Therefore, tours on Aruba can be crowded. Both islands are relatively small but there's a lot to discover on both. Curacao and Aruba have plenty things to do!
Photo: Substation Curacao
Nightlife: Different areas vs. One hotel strip
Aruba's nightlife is fairly centralized near the hotel strip. Thus, easy to walk and no rental car needed. The strip consists of many restaurants, bars and nightclubs. Aruba is also known for its many casinos. On Curacao, the nightlife is more spread out over the island with multiple popular areas with different atmospheres and vibes (Latin, Dutch, Caribbean, Authentic etc.).
Photo: Bar Ayia Napa op Aruba