The Avila Beach Hotel is known for its personal touch. It is not the beautiful beach or that comfortable hotel room that makes the Avila Beach Hotel, the Avila Beach Hotel, it is our employees. Together we are forming the Avila family. All employees are dear to our heart, and some of them have amazing stories to tell, so please allow us to highlight a few of them.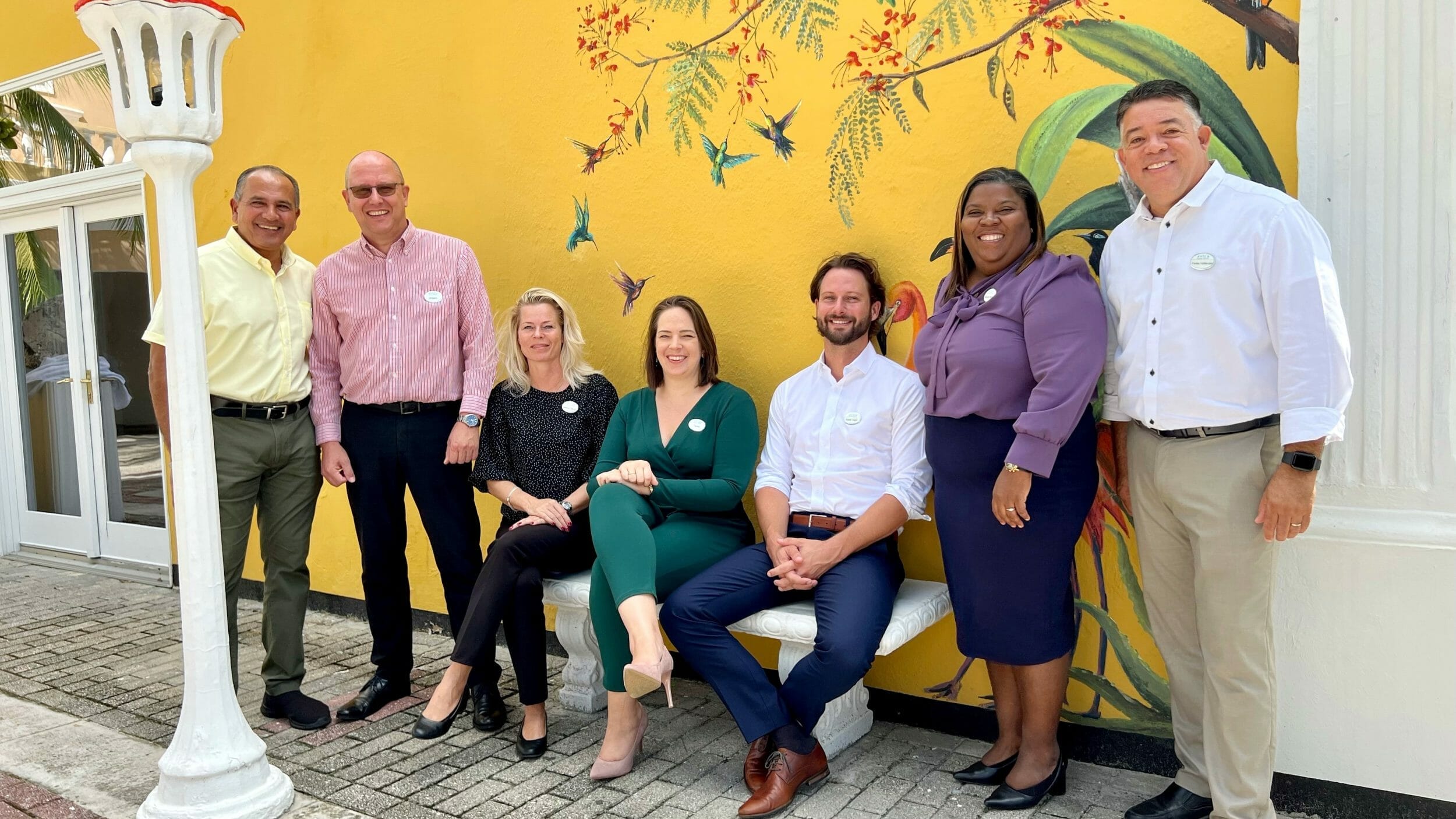 Meet our Management Team from left to right: Seen Persaud (F&B Manager), Willem Buist (Financial Controller), Rebecca Dijkstra (Rooms & Quality Manager), Romy Nieuwenhuis (HR Manager), Robbin Vogels (General Manager), Germaine Illidge (Guest Experience & Revenue Manager), Farley Hollander (Resident Manager).
Learn more about a few of our family members, which you might recognize from your previous stay. Some of them are part of the team, longer than you are alive. Here are some fun facts about these special people.
Renzo Benita
If you visited the Avila Beach Hotel after 1995 you will definitely recall our doorman Renzo Benita. He is the first person to welcome you at the Avila Beach Hotel and the last one to wish you a pleasant flight back home. Almost every week Renzo is named by our guests in our so-called 'Guest Comment Cards' for excellent service. His warm and friendly personality makes every guest feel welcome and at home, instantly.
Stephen Pietersz
At the age of fifteen Stephen Pietersz met late owner Nic Møller in the surroundings of the Avila Beach Hotel where Stephen lives and sometimes made mischief. To keep him off the street and by educating him with helpful tools, Nic Møller asked him if we wanted to do some chores at the hotel. No sooner said than done Stephen was there the next morning and he still is today. He and Nic Møller became as close as father and son and Stephen eventually made it to Maintenance Supervisor. He even went to follow a summer course at Cornell University in New York offered by the hotel. We often call him "Mighty Steve" because he's always there when you need him, even in the middle of the night, and always with a smile.
Aisheline Hooi
Since 2010 Aisheline is that modest quiet strength in our Food & Beverage team. She has that authentic friendliness and warm smile Curacao and the Avila Beach Hotel is famous for. Never stressed, always polite, accurate and she truly wants you to enjoy and relax during your stay. This warmhearted woman has loads of fans; there are countless hotel guests who mention Aisheline as their all-time favorite barista/server. Not without reason!
Nataly Sint Jago
As the Front Office Manager, she will ensure that our guests receive a heartwarming welcome. She has a very contagious signature laugh that everyone who knows her (or has seen her) recognizes from afar, instantly. Coordinating all front desk activities, including calls, she is one of our superstars since 1999-2004 and again as of 2007. Her pleasant & service minded personality and dynamic professional attitude make Nataly a valuable part and leader of our Front Office team.
Jean Roosburg
Jean is the superstars who is part of our Avila Family longest. She joined the Avila family in 1980 at the age of 15! Every single day she is cleaning our public areas thoroughly. Jean is incredibly loyal, friendly, and hardworking. She is one of the best and steadiest in what she does. Her soft and friendly character make her truly a gem.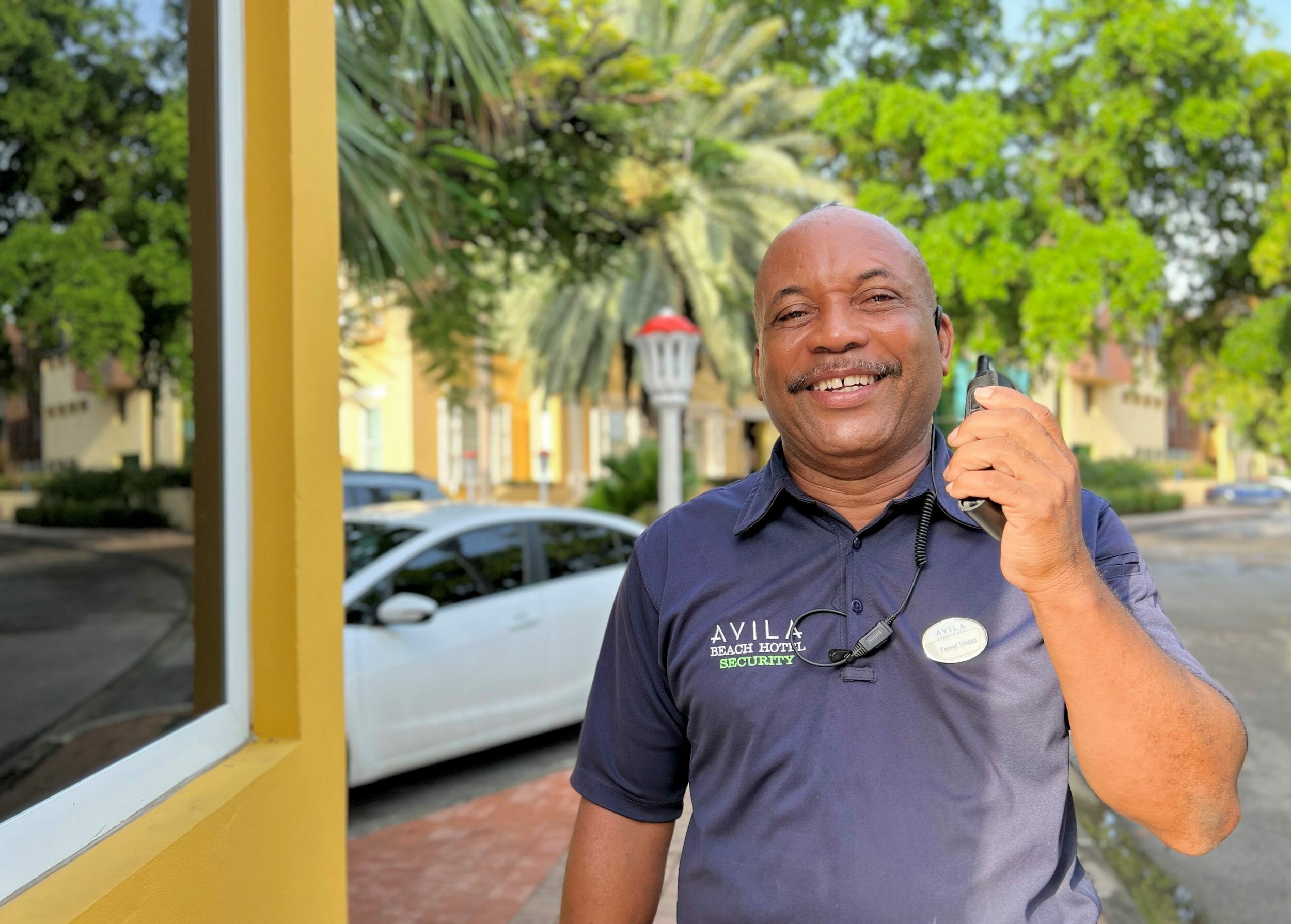 Frensel Trinidad
Frensel is better known as Trini. Trini's passion is keeping our hotel grounds safe. He is our Security Supervisor by day, and every now and then a big fan of Karaoke. You'll often see him singing or humbling a song. Ask him for help and he will be there as fast as lightning. Ask him to sing a song, and he will be striking you with his tunes.
Francesca Leonora
Francesca is the one of the sweetest persons you will ever encounter. Francesca, or Vanca as most people call her, has a heart of gold. She is part of our family since 2005. She is always in a good mood and a true team player. Vanca is a great help in our Food & Beverage department and a star in keeping The Pen area sparkling clean. She is always in for a little chat, so don't be shy to start a conversation with Vanca when you're visiting.
Adiel Martina
Adiel is our force in the Food & Beverage department. He is kind, patience, and a wonderful server in our The Pen Restaurant & Terrace. Adiel is a very modest person, and he is mentioned often in our so-called 'Guest Comment Cards' for excellent service. Should you encounter Adiel in his free time, please don't be offended if he does not greet you or recognizes you. Adiel has a twin brother who looks identical.